About us
Thai O-Sha in Aspley wants you to enjoy Asian and Thai cuisine with bold flavours and fresh ingredients. We offer Family Pack for two or four, that gives you a variety of our best and most popular items from our menu--everything you need for a complete dining experience, while saving you money. You will also find soups, salads, and curries on our menu, along with chef specials that usually feature delicious fish or succulent duck.
All throughout our menu at Thai O-Sha, you will find customizable dishes that can be prepared as spicy or mild as you like. Pair your main course with noodles, rice, or other amazing dish for something truly special.
Order online for lunch or dinner collection, dinner delivery, or indulge in our exquisite menu in our comfortable dining room tonight. First time customers receive 10% of their total order.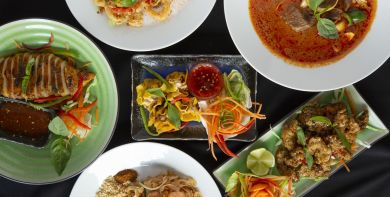 Reviews
Maja
"My drink was forgotten with the delivery. Food and service perfect nonetheless"
29/01/2020
Maria
"Food was delicious. Service was wonderful."
10/01/2020